Road or Triathlon Cycling Analysis Overview
My professional road or Triathlon cycling analysis is my most popular option at my location and is the option for you in getting set to your most powerful, efficient and comfort position.  If I am working on an existing bike position, I review your position and provide recommendations on changes to make to your existing bike to help you achieve the position I have established.  The process starts with interview and Functional Movement Assessment.  I have been using and refining my screening since I introduced it to UCI Continental Aisan Racing Team in 2013 and Team Ukyo in 2016.

Cycling is Fun Sport…Everybody says this phrases.  But..  why you are patient with a discomfort bike?   That probably makes you to give up from the sports.

I like to see cyclist's smile after good bike riding.
What SUN MERIT BIKE FIT STUDIO is different from Bike shops, Coaches and Training center?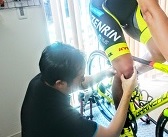 ●Makito uses cutting edge devices in bike fit because a human's eye are not a like to high speed cameras.  He uses both the data and the cyclist's physical flexibility as reference.
●Makito is only one Japanese bike fitter who evaluate Retul's  official highest rank 「★RETUL CERTIFIED FITTER」
●Makito prvides a brief digital bike fit report after the session.
●Very knowledgeable.  He goes to abroad almost every single year for learning new things at symposium or seminars that specialties of cycling science.
●Makito uses bio mechanical evidences for bike fitting. A good estimation with no ventures.  That's Makito's policy.
●No bicycle sales.
●Makito always ask Cyclist's feeling during the session. That is the first. The digital numbers are second.   That is based on essential bike fit.  A proper physical assessment analysis also very important too.
●No coaching, no nutritious advise gives you.
●Do not sell needless bike stuffs.
【I use several cutting edge devices that efficiently on my work such as…
・Gebiomized Secret Club Saddle product lines: Sleak, Area, Stride
・BIKEFIT.com fitting parts(Cleat Wedges, In The Shoe Wedges, Pedal Spacers etc.)
・Retul 3D Motion Capture System (Using at Totsuka・Yokohama SUN MERIT BIKE FIT STUDIO)
・WIVA saddle pressure mapping system
・Sit bone measuring device(Specialized BG Fit)
・Laser leveler
・Various length of chain crank sets:(Shimano Hollow TechII BB 150~172.5mm  5mm each)
・Various width handle bars(Road): 380mm to 420mm
・Sizing Stem(BIKEFIT、 Retul)
・Saddle changer device